Enjoy any time of the year with these refreshing and delicious recipe using some of our most colorful vegetables!
Click one below
×
BABY VEGETABLE
STIR FRY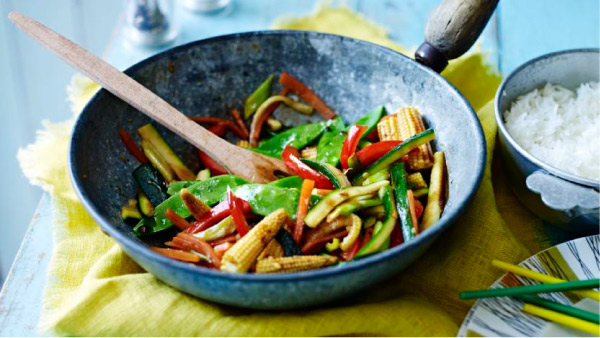 INGREDIENTS
2 tbsp sunflower oil
4 spring onions, cut into 4cm/1½in lengths
1 garlic clove, crushed piece fresh root ginger, about 1cm/½in, peeled and grated
1 carrot, cut into matchsticks
1 red pepper, cut into thick matchsticks
100g/3½oz baby sweetcorn, halved
1 courgette, cut into thick matchsticks
150g/5½oz sugar-snap peas or mangetout, trimmed
2 tbsp hoisin sauce
2 tbsp low-salt soy sauce
DIRECTIONS
1. Heat a wok on a high heat and add the sunflower oil. Add the spring onions, garlic, ginger and stir-fry for 1 minute, then reduce the heat. Take care to not brown the vegetables.
2. Add the carrot, red pepper and baby sweetcorn and stir-fry for 2 minutes. Add the courgette and sugar snap peas and stir-fry for a further 3 minutes. Toss the ingredients from the centre to the side of the wok using a wooden spatula. Do not overcrowd the wok and keep the ingredients moving.
3. Add 1 tablespoon water, hoisin and soy sauce and cook over a high heat for a further 2 minutes or until all the vegetables are cooked but not too soft. Serve with noodles or rice.
×
VEGETABLE
KABABS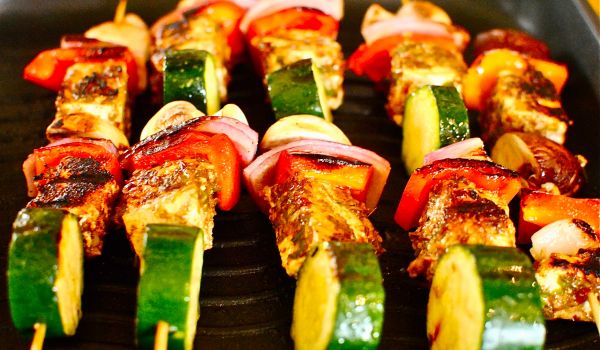 INGREDIENTS
MARINADE:
3 tablespoons vegetable oil
1 teaspoon chili powder
1/2 teaspoon paprika
1/4 teaspoon ground cumin
1/8 teaspoon ground red pepper
3 tablespoons fresh lime juice
2 tablespoons water
2 tablespoons chopped fresh cilantro
2 tablespoons tomato paste
1 1/2 teaspoons honey
2 cloves garlic, minced
Salt, to taste
KEBABS:
2 red peppers cut into 1 1/2-inch pieces
2 green peppers cut into 1 1/2-inch pieces
2 yellow peppers cut into 1 1/2-inch pieces
4 yellow onions cut into 1 1/2-inch pieces
2 large yellow squash cut into 1 1/2-inch pieces
2 large zucchini cut into 1 1/2-inch pieces
1 medium eggplant cut into 1 1/2-inch pieces

DIRECTIONS
In a medium bowl, stir marinade ingredients together until smooth.
Preheat grill or broiler. Thread vegetables onto wooden or metal skewers. If you use wooden ones, soak them in water for 1 to 2 hours before using to keep them from burning. You can make single vegetable skewers or use an assortment on each skewer.
Lightly brush each skewer with marinade. Broil 4 to 6-inches from heat, 5 minutes per side or until browned or lightly charred and tender. If desired, serve with extra marinade for dipping.
×
MARINATED BABY
VEGETABLES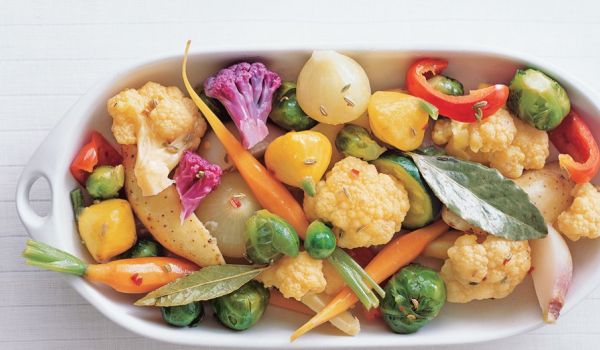 INGREDIENTS
6 cups assorted trimmed baby vegetables (such as halved fingerling and purple potatoes, baby carrots, brussels sprouts, cauliflower, pearl onions, pattypan squash, and/or strips of large vegetables like bell peppers)
1 cup olive oil
1/2 cup Champagne vinegar
4 small bay leaves
2 teaspoons coarse kosher salt
2 teaspoons freshly ground black pepper
1 teaspoon fennel seeds
1 teaspoon dried oregano
1/4 teaspoon dried crushed red pepper

DIRECTIONS
Steam all vegetables until potatoes are tender, about 8 minutes. Transfer to large bowl. Meanwhile, bring remaining ingredients to boil in medium saucepan, whisking until salt dissolves. Pour over vegetables. Let marinate at least 15 minutes, tossing occasionally. Serve warm or at room temperature.
×
GRILLED BABY
VEGETABLES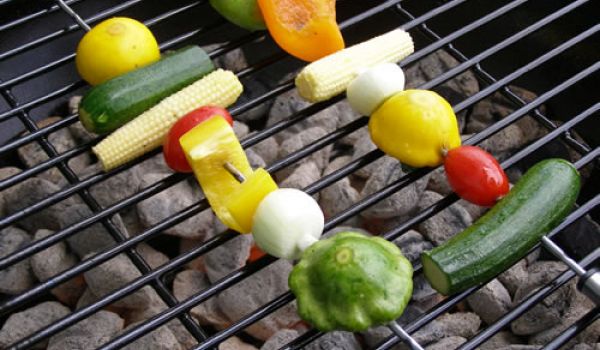 INGREDIENTS
½ pound baby zucchini (halved lengthwise, 6)
3 baby eggplants (thinly sliced lengthwise, 1/2 pound)
12 baby portabella mushrooms (criminis)
½ lemon (juice of)
2 teaspoons Dijon mustard
2 teaspoons grill seasoning (2/3 palm full, recommended, Montreal Steak Seasoning blend by McCormick)
1 tablespoon Worcestershire sauce (eyeball it)
1 large garlic clove (crushed)
3 tablespoons extra virgin olive oil

×
VEGETABLE
LASAGNA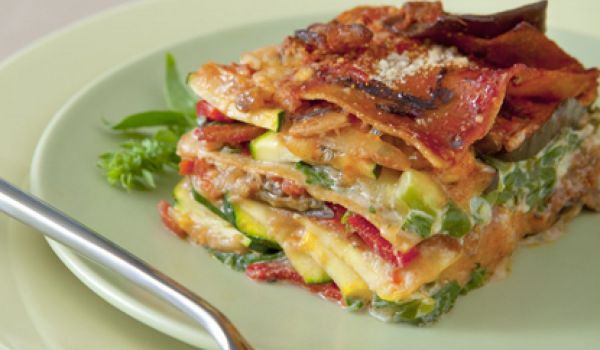 INGREDIENTS
2 zucchini thinly sliced, lengthwise
2 squash thinly sliced, lengthwise
1/2 white onion, diced
1 red bell pepper, diced
6 oz. sliced button mushrooms
2 cloves garlic, minced
9 oz. fresh spinach
1 28 oz. can crushed tomatoes
1 24 oz. container ricotta cheese
2 eggs
1/4 cup chopped fresh parsley
1 cup Parmesan cheese
2 cups shredded mozzarella cheese
2 cups shredded provolone cheese
1/2 cup white wine
1 lb. box no boil lasagna noodles
small bunch fresh basil, chopped for garnishing

DIRECTIONS
Preheat oven to 350 degrees.
In a medium pan, drizzle with olive oil. Over medium-low heat, saute onion, mushrooms, red pepper, and garlic for 5 minutes, careful not to burn the garlic. Add white wine and a pinch of salt and pepper and continue to saute until wine is reduced by half. Set aside to prep the lasagna.
In a medium mixing bowl, combine ricotta cheese, eggs, parsley, and Parmesan cheese. Set aside to prep lasagna.
In a small bowl, combine the mozzarella and provolone cheese together. Set aside.
Using a 9 x 13 inch lasagna pan/baking dish, spoon 1/4 of the can of crushed tomatoes in the bottom of the pan to evenly coat.
Layer with lasagna noodles, leaving at least 1/2 inch between the noodles to allow them to expand while cooking.
Top with a layer of sliced zucchini and squash, then the mushroom/pepper mixture.
Top with another 1/4 of the can of crushed tomatoes and 1/3 of the ricotta mixture. Spread evenly with wooden spoon or spatula.
Top with 1 cup shredded cheese.
Repeat layering process from noodles to cheese two more times.
For the top layer, add fresh spinach before you top with the sauce and shredded cheese.
Bake, covered, for 40 minutes.
Uncover and continue to bake for 20 minutes.
Remove from oven, top with the remaining cup of shredded mozzarella cheese.
Turn the oven to broil.
Broil for 5 minutes until the cheese is melted and golden.
Remove from oven and let sit for at least ten minutes before slicing and serving.
Top with freshly chopped basil.

×
BABY VEGETABLE
PIZZA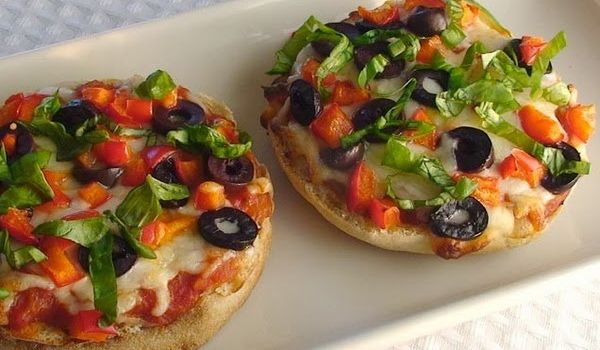 INGREDIENTS
2 whole-wheat English muffins, sliced
1/4 cup marinara sauce
1/4 cup diced bell pepper
1/4 cup sliced black olives
4 to 5 fresh basil leaves, roughly chopped
1/2 cup shredded part-skim mozzarella cheese

DIRECTIONS
Preheat oven to 375 degrees F. Place English muffins on a baking sheet lined with aluminum foil. Top with marinara sauce, bell pepper, olives and basil. Sprinkle with cheese and bake for 12 to 15 minutes until cheese is melted.
×
FRIED
ZUCCHINI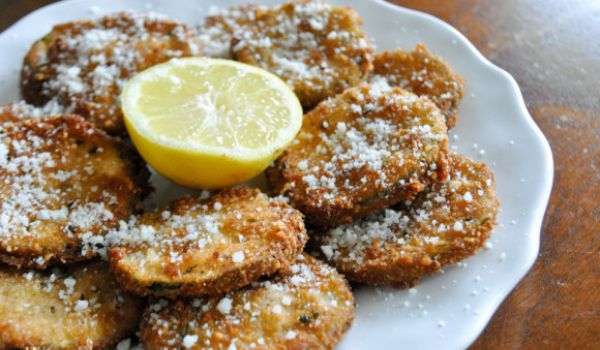 INGREDIENTS
1 large zucchini or 2 smaller zucchini
2 cups all purpose flour
2 eggs, whipped
1 1/2 cups Italian breadcrumbs
1/2 cup grated Parmesan cheese, plus some some garnishing
1 lemon
vegetable oil for frying

DIRECTIONS
Slice the zucchini into 1/8 inch circles and set aside.
Prepare a breading station with three shallow bowls of flour, eggs, and breadcrumbs. Add a splash of water to the eggs and whisk thoroughly with your fork.
Place each slice of zucchini into the flour first, coating both sides, then egg wash, and breadcrumbs. Set aside on a plate.
Heat about 1 inch of vegetable oil in your frying pan. Heat oil over medium-low heat.
Test a pinch of breadcrumbs to see if they bubble in the oil. If they don't, the oil isn't hot enough. If they brown up right away, turn the heat down. You want a little bubble for a slow, continuous fry.
Once you have the right frying temperature, place 5-6 breaded zucchini slices into the oil at a time, depending on the size of your frying pan. You don't want your slices touching.
After 2-3 minutes on the first side, turn each slice over in the oil. Continue until all slices are golden brown.
Place fried zucchini in a paper towel lined baking dish and continue to top each single layer of zucchini with a splash of fresh lemon juice and freshly grated Parmesan cheese. Then top with another paper towel and repeat.
Serve immediately or place in the oven on warm until you're ready to serve.

BABY VEGETABLES WITH
TARRAGON NAGE
×
BABY VEGETABLE WITH
TARRAGON NAGE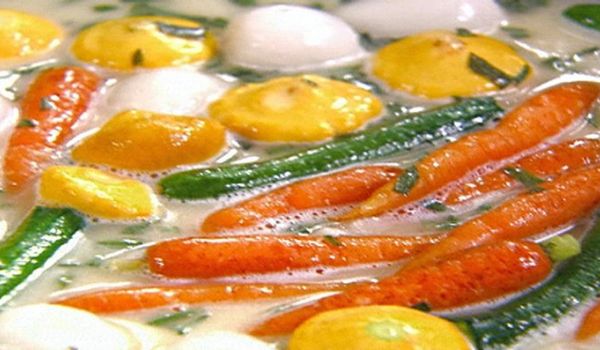 INGREDIENTS
2 tablespoons sea salt
1 pound baby vegetables (zucchini, pattypan squash, carrots, etc.)
2 cloves garlic, sliced thin
5 ounces sweet butter (1 stick plus 2 tablespoons)
5 tablespoons cold water
2 tablespoons fresh tarragon, chopped
1/2 teaspoon fresh ground black pepper

DIRECTIONS
Bring a gallon of water to a boil in a stockpot. Salt it with 2 tablespoons sea salt. Wash the baby vegetables under cold water in colander.
Blanch vegetables in boiling water for 2 minutes, drain and refresh in cool water. Dry well.
In a large saute pan heat 1 tablespoon of butter with the garlic and saute until light brown. Add the cold water. When water comes to a simmer reduce heat to low and swirl in the butter, whisking constantly, one tablespoon at a time. When you add in the last of the butter also add the vegetables, tarragon, and pepper and just heat through. Taste and season with salt if needed. Remove from heat and serve.